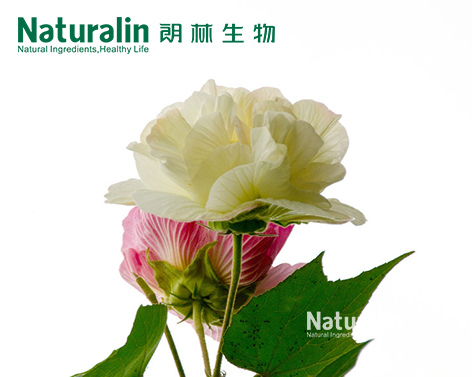 Hibiscus Flower Extract
Naturalin Code:

NAT-125

Product Specification:

4:1; 8:1; 10:1

Latin Name:

Hibiscus Mutabilis Linn.

Test Method:

TLC

We're here to help:


Easy ways to get the answers you need.

PRODUCT DESCRIBTION
Introduction:
Hibiscus is a genus of flowering plants. It has some of the largest flowers of any plant.Flowers on the Chinese hibiscus (Hibiscus rosa-sinensis) come in single or double forms and can be 4 to 8 inches wide.In addition to being admired for their ornamental beauty, these flowers have been used for both culinary and medicinal purposes. Hibiscus flower extract have been used worldwide.

The flower contains flavone glycoside and anthocyanins (Anthocyanin). The former is Isoquercitrin (Isoquercitrin), Hyperoside (Hyperin, Hyperoside), rutin, quercetin (Rutin) -4 "- glucoside (Quercitin-4-glucoside, i.e. spiraeoside Spiraeoside) and quercetin (Quercimeritrin Huang Dai); the latter content varies with the color of flowers and different; the morning flowers yellowish without contain anthocyanins, noon (pink) and evening (pink) containing anthocyanin cyanidin glucoside (3, 5- two, Cyanidin 3, 5-diglucosidc), cyanidin 3- rutinoside -5- glucoside (Cyanidin 3-rutinoside-5-glucoside), the evening of the content is 3 times of noon. Seed oil content 12.3% (dry weight).

Functions:
1. Remove dandruff and stimulate hair growth;
2. Help maintain healthy body temperatures;
3. Boost the effectiveness of vitamin C absorbtion;
4. Help support memory and concentration;
5. Aid in weight control challenges;
6. May aid in alleviating problems with indigestion.

Applications:
Functional food and food additive/Cosmetics additive/Tea.
Hibiscus extract is mostly obtained from the red flowers of Roselle (H. sabdariffa).This particular species is generally cultivated in and around China, Egypt,Thailand and India.The hibiscus flower is an antioxidant, astringent, emollient and firming agent. Hibiscus can help soften the skin and also promote a healthy scalp and shiny hair. This product is an excellent addition to many types of personal care and cosmetic formulations such as moisturizing lotions, hair care products, anti-aging skin creams and in many other types of applications.

Packing & Storage:
Pack in paper-drums and two plastic-bags inside. Net Weight: 25kgs/paper-drum.
1kg-5kgs plastic bag inside with aluminum foil bag outside. Net Weight: 20kgs-25kgs/paper-drum.
Store in a well-closed container away from moisture and light.

Shelf Life:
2 years if sealed and store away from direct sun light.

Natural Ingredients, Healthy Life.
Naturalin is a botanical/plant extracts manufacturer and Natural Ingredient Solutions provider.
Please feel free to contact us for your any concerns.


Associated Products
Contact Us
Email: sales@naturalin.com
Tel: +86(731)84430651
Free Sample
Subscribe Naturalin

INQUIRY
Please note that we are a wholesale company selling bulk quantities of 5 kg and greater.
We do not sell retail quantities to individuals.
Why Subscribe Naturalin Newsletter & Magazine?
As a leading plant extract manufacturer in China, Naturalin would like to offer you plant extract marketing inforamtion for you
in the form of monthly newsletter and semiyearly magazine, it is free of charge. Many thanks.