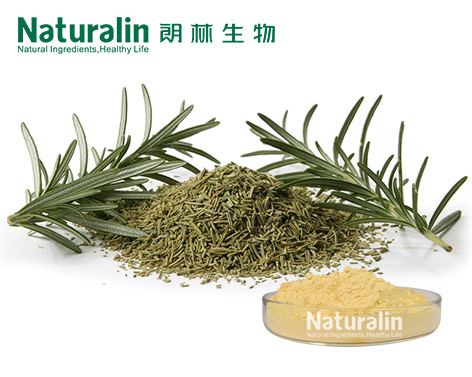 Rosemary Extract
Naturalin Code:

NAT-185

Product Specification:

10%-20% Carnosic acid oil, 10%-95% Carnosic acid, 5%-30% Rosmarinic acid, 25%-98% Ursolic acid

Latin Name:

Rosmarinus Officinalis L.

Test Method:

HPLC

We're here to help:


Easy ways to get the answers you need.

PRODUCT DESCRIBTION

Introduction:
Naturalin owned a 300,000 square meter of rosemary plant base, with whole industrial supply chain management and whole process control system from raw materials to finished products, we could guarantee our product in high end.
We also developed a series of deep-processed rosemary products, including soluble antioxidant rosemary acid products, oil-soluble antioxidants carnosic acid products, daily use rosemary essential oil, medical products- ursolic acid. After application and development of 15 years, Naturalin branded rosemary compound dedicated to personal care is developed.
Patent product: ZL201210214411.1
Applications:
● Food & Beverage
Natural preservative & antioxidant: extend shelf life, stabilize the appearance and preserve taste.
· Oils and fats
· Drinks & beverages
· Fish products
· Confectionery products
· Meat products
· Sauces
● Nutritional Supplements
Antioxidant, eliminate free radicals, anti-aging, etc.
● Personal Care Products
Anti-bacterial, Antioxidant, Anti-aging, etc.
● Animal Food Additives
spec: Carnosic Acid Oil 5%, 10%; Rosmarinic Acid Powder 5%; Powder
recommended usage: 0.003%-1%
In line with the concept of 'green farming': Natural, pollution-free and residue-free.
anti-oxidation: Effectively improve the oxidative damage caused by various stresses in animals. optimize the intestinal microbial environment, improve the immunity of animals, and also significantly improve growth performance, improve meat quality, and prolong the meat preservation time. It is used as an antibiotic alternative feed additive.
Customized Rosemary Ingredients
All Naturalin rosemary extracts can be adjusted to the specific needs of the client.
· Liposoluble or water-soluble
· Deodorized & Decolorized
· Ingredient & Formula
· Powder & Liquid
· Rosemary Industry Chain
Naturalin Rosemary Industry Chain

Naturalin also supply Rosemary Oil products, if you need it, please feel free to contact us: sales@naturalin.com!
Extraction parts: Leaf (Dried, 100% Natural)
Method of extraction: Solvent Extraction
Spec: 10% Carnosic acid oil (Fine brown oily liquid)
Packing & Storage:
Pack in paper-drums and two plastic-bags inside. Net Weight: 25kgs/paper-drum.
1kg-5kgs plastic bag inside with aluminum foil bag outside. Net Weight: 20kgs-25kgs/paper-drum.
Store in a well-closed container away from moisture and light.
Shelf Life:
2 years if sealed and store away from direct sun light.
Natural Ingredients, Healthy Life.
Naturalin is a botanical/plant extracts manufacturer and natural ingredient solutions provider.
Please feel free to contact us for your any concerns.

Associated Products
Contact Us
Email: sales@naturalin.com
Tel: +86(731)84430651
Free Sample
Subscribe Naturalin

INQUIRY
Please note that we are a wholesale company selling bulk quantities of 5 kg and greater.
We do not sell retail quantities to individuals.
Why Subscribe Naturalin Newsletter & Magazine?
As a leading plant extract manufacturer in China, Naturalin would like to offer you plant extract marketing inforamtion for you
in the form of monthly newsletter and semiyearly magazine, it is free of charge. Many thanks.