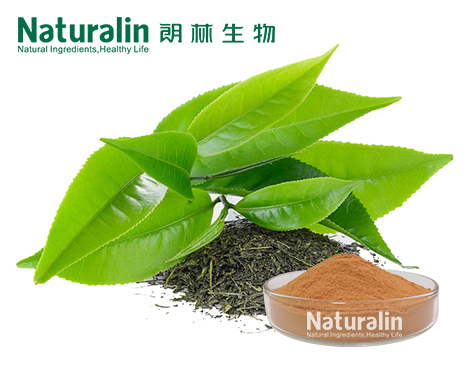 Green Tea Extract
Naturalin Code:

NAT-120

Product Specification:

95%EGCG, 98% Polyphenols 50% EGCG

Latin Name:

Camellia sinensis (L.) Kuntze

Test Method:

UV-VIS/HPLC

We're here to help:


Easy ways to get the answers you need.

PRODUCT DESCRIBTION
Introduction:
Green tea is one of the most commonly consumed teas in the world. Green tea extract also is a great source of antioxidants. These have been credited with a range of health benefits and its uses are also very extensive.
Spec

95% EGCG
(HPLC)

40% Polyphenols
(UV-VIS)

98% Polyphenols 50%_80% EGCG
(UV, HPLC)

Meet Plasticizer Requirements

DNOP NMT1PPB, DIDP NMT 5PPB, DBP NMT 0.3PPB, BBP NMT 1PPB, DEHP NMT 1PPB, DINP NMT 5PPB.

Products Form
Functions:
1.Tea polyphenols can protect easy-oxidant in the body from oxidizing through oxidized itself to made cellular activity normalize.
2.Tea polyphenols can supply lots of protons, which combine with over 98% of these free radicals, there by stop next chemical reaction and protect the fat from further oxidizing.
Applications:
Wide range of uses:
1. In food ingredient to increase nutrition or regulate color,aroma and taste.
2. In food additive as an antioxidant.
3. In solid beverage ( brewing beverages ) and liquid beverage ( bottled drink ) and so on.
Use directly or after mixing with other ingredients evenly.
Recommended Usage: Add approximate amount as required.
Packing & Storage:
Pack in paper-drums and two plastic-bags inside. Net Weight: 25kgs/paper-drum.
1kg-5kgs plastic bag inside with aluminum foil bag outside. Net Weight: 20kgs-25kgs/paper-drum.
Store in a well-closed container away from moisture and light.



Shelf Life:
2 years if sealed and store away from direct sun light.

Natural Ingredients, Healthy Life.
Naturalin is a botanical/plant extracts manufacturer and Natural Ingredient Solutions provider.
Please feel free to contact us for your any concerns.

Associated Products
Contact Us
Email: sales@naturalin.com
Tel: +86(731)84430651
Free Sample
Subscribe Naturalin

INQUIRY
Please note that we are a wholesale company selling bulk quantities of 5 kg and greater.
We do not sell retail quantities to individuals.
Why Subscribe Naturalin Newsletter & Magazine?
As a leading plant extract manufacturer in China, Naturalin would like to offer you plant extract marketing inforamtion for you
in the form of monthly newsletter and semiyearly magazine, it is free of charge. Many thanks.