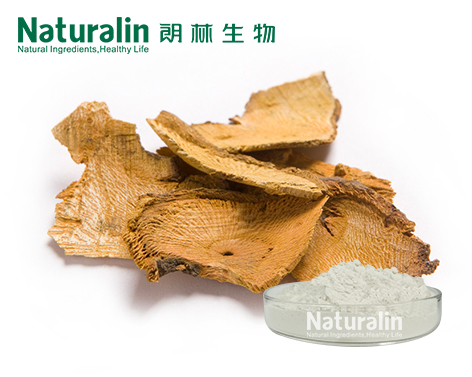 Giant Knotweed Extract
Naturalin Code:

NAT-111

Product Specification:

20%~99% Resveratrol

Latin Name:

Polygonum cuspidatum Sieb. et Zucc.

Test Method:

HPLC

We're here to help:


Easy ways to get the answers you need.

PRODUCT DESCRIBTION
Introduction:
Giant Knotweed Extract, also known as Huzhang (tiger cane) or giant knotweed is an east Asian species ( polygonum cuspidatum), belonging to the polygonaceae family. Resveratrol is found in the roots of Giant Knotweed Rhizome (Rhizoma Polygoni Cuspidati) and in other fruits as well as in the skin of red grapes. Red wine contains on the order of 0.1-14.3 mg/l. It is sold as a nutritional supplement derived primarily from knotweed, and it is extracted commercially – when under attack by pathogens such as bacteria or fungi.

Functions:
1. Exercise and metabolism;
2. Cardioprotective effects;
3. Antidiabetic effects;
4. Skin protection;
5. Neuroprotective effects;
6. Anti-inflammatory effects;
7. Antiviral effects;
8. Effect on testosterone levels;
9. Selective and reversible MAO-A inhibiting effects (RIMA);
10. Opioid tolerance reduction;
11. Sirtuin activation.

Applications:
Pharmaceutical stuff / Health care / Skin care

Packing & Storage:
Pack in paper-drums and two plastic-bags inside. Net Weight: 25kgs/paper-drum.
1kg-5kgs plastic bag inside with aluminum foil bag outside. Net Weight: 20kgs-25kgs/paper-drum.
Store in a well-closed container away from moisture and light.

Shelf Life:
2 years if sealed and store away from direct sun light.

Natural Ingredients, Healthy Life.
Naturalin is a botanical/plant extracts manufacturer and Natural Ingredient Solutions provider.
Please feel free to contact us for your any concerns.


Associated Products
Contact Us
Email: sales@naturalin.com
Tel: +86(731)84430651
Free Sample
Subscribe Naturalin

INQUIRY
Please note that we are a wholesale company selling bulk quantities of 5 kg and greater.
We do not sell retail quantities to individuals.
Why Subscribe Naturalin Newsletter & Magazine?
As a leading plant extract manufacturer in China, Naturalin would like to offer you plant extract marketing inforamtion for you
in the form of monthly newsletter and semiyearly magazine, it is free of charge. Many thanks.