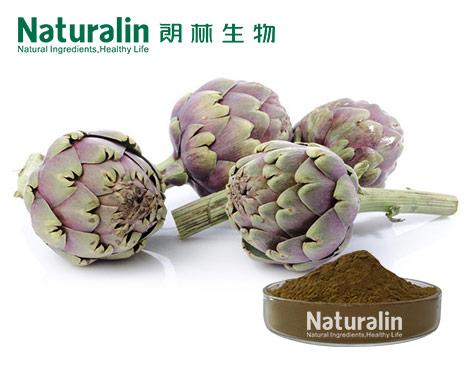 Artichoke Extract
Naturalin Code:

NAT-015

Product Specification:

5% Cynarin, 2.5%~5% Total Acids (Cynarin), 1.3%Chlorogenic Acid

Latin Name:

Cynara Scolymus L

Test Method:

UV-VIS/HPLC

We're here to help:


Easy ways to get the answers you need.

PRODUCT DESCRIBTION
Introduction:
Artichoke (Cynara scolymus), also known as cardoon, chrysanthemum, ball thistle, lily, French lily, is a perennial herbaceous plant in the Compositae family and is a healthy vegetable with high nutrition. It is rich in cynic acid, chrysanthemum, asparagine and other compounds, which can enhance liver function and prevent arteriosclerosis. It is also widely used in the feed industry.
Benefits & Applications:
● Nutrition
Artichoke extract has a lipid-lowering function. It can effectively reduce the levels of TG, TC and LDL in the serum and liver, increase the level of HDL, and reduce the content of MDA. And can improve the activity of liver lipase and lipoprotein lipase.
● Animal Nutrition
In pig feed:
Improve intestinal microbes
Dried, unprocessed artichoke rhizomes are rich in fructose and can be used as feed. Adding to the diet of pigs can improve the palatability of the feed and increase the weight of the pig.
Advantages
- Natural alternative anti-fungal products, safe for pigs, no adverse effects.
In cattle feed:
Beef cattle:
Good palatability, increase feed intake and gain weight. Improve the efficiency of
beef cattle breeding, often used for beef cattle fattening.
Advantages
- Using artichoke extract as the main feed material for beef cattle can greatly reduce production costs and improve the economic benefits of beef cattle breeding.
Lactating dairy cows:
Feeding with artichoke extract as a raw material can increase the milk production of lactating dairy cows, and the milk produced has a good taste when consumed by humans, and has high-quality fragrance and sweetness.
Advantages
- Increase milk production, increase economic benefits, and artichoke extract has no adverse effects on lactating cows, so you can feed with confidence.
Artichokes Herb (Latin Name: Cynara Scolymus L) is available at Naturalin.

Animal nutrition ingredients list:
| | | |
| --- | --- | --- |
| English Name | Chinese Name | Main Spe. |
| Siberian Ginseng Extract | 刺五加提取物 | 0.8%-2% eleutheroside B and E;Powder |
| Alfalfa Extract | 紫花苜蓿提取物 | Ratio spec and dehydrated powder |
| Echinacea Extract | 紫锥菊提取物 | 4% Polyphenols; 4% Cichoric Acid |
| Eucommia Bark / Leaves Extract | 杜仲皮/叶提取物 | 5%-98% Chlorogenic Acid |
| Garlic Extract | 大蒜提取物 | Ratio spec and dehydrated powder |
| Green Tea Extract | 绿茶提取物 | 10%-98% Polyphenols |
| Marigold Extract | 万寿菊提取物 | 2% Lutein UV |
| Mulberry Leaf Extract | 桑叶提取物 | Ratio spec, 1%DNJ |
Packing & Storage:
Pack in paper-drums and two plastic-bags inside. Net Weight: 25kgs/paper-drum.
1kg-5kgs plastic bag inside with aluminum foil bag outside. Net Weight: 20kgs-25kgs/paper-drum.
Store in a well-closed container away from moisture and light.
Shelf Life:
2 years if sealed and store away from direct sun light.
Natural Ingredients, Healthy Life.
Naturalin is a botanical/plant extracts manufacturer and Natural Ingredient Solutions provider.
Please feel free to contact us for your any concerns.

Associated Products
Contact Us
Email: sales@naturalin.com
Tel: +86(731)84430651
Free Sample
Subscribe Naturalin

INQUIRY
Please note that we are a wholesale company selling bulk quantities of 5 kg and greater.
We do not sell retail quantities to individuals.
Why Subscribe Naturalin Newsletter & Magazine?
As a leading plant extract manufacturer in China, Naturalin would like to offer you plant extract marketing inforamtion for you
in the form of monthly newsletter and semiyearly magazine, it is free of charge. Many thanks.