Ashwagandha Extract: Sleep Aid Products Ingredient
Author : Naturalin Marketing Dept.  Date : Click : times
Sleep is imperative for good health, however, over 30% of adults sleeping less than the recommended seven hours per night according to the report. And The Centers for Disease Control and Prevention reports that 36% of adults in the U.S. use some type of alternative medicine to assist or treat various ailments, including sleep disorders.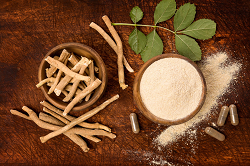 Ashwagandha
One natural remedy used to treat sleep problems is ashwagandha, a plant that is believed to have sleep-inducing properties. In many languages, ashwaganda is also referred to as the 'sleep berry'. It is a medicinal herb also known for its restorative and rejuvenating benefits. WHO considers the root to be a tonic. People have turned to ashwagandha for sleep for hundreds of years.
Effects
Promotes Sleep
Ashwagandha extract can promotes sleep more restful. It showed a wonderful ability to induce deep, restful sleep and improve non restorative sleep which makes you feel rested, rejuvenated, energized. If you are suffering from insomnia, including this herb in your diet can curb your problem.
Balances Circadian Rhythm
Sleep deprivation can lead to poor quality of sleep and disrupted sleep patterns or circadian rhythms. Using ashwagandha to find restful sleep can put your body's internal clock back on track.
Supports Cognitive Function
Ashwagandha use can benefit cognitive function. It helps to maintain a healthy balance between the nervous system, endocrine glands and immune system, thus reducing the harmful effects of long-term stress on the body and mind. It can even play a useful role in neurodegenerative diseases like Parkinson's, Huntington's, and Alzheimer's.
Reduce stress & anxiety
Ashwagandha extract has natural properties help to reduce the thyroid level which assists in decreasing stress and anxiety. Help you

getting a stress free sleep

. As an adaptogen, Ashwagandha root extract boost our adrenal system by normalizing the cortisol levels of our body; also sustains energy levels, strength, and vitality.
Applications
Ashwagandha extract
can be used in numerous dietary supplements that aim to promotes sleep, increase vitality and energy levels. This powerful herb is available in multiple forms. It comes as a powder, tea, pill, tincture, or gummies.
Are you planning to use
ashwagandha
in your products? We would be pleased to assist you with your formulation and idea development. Naturalin has 15+ years of manufacturing experience in the global market. Supports R&D customized ingredients(Formula, Bulk density customization). Please feel free to contact us:

sale@naturalin.com

.
Reference:
1.https://www.cdc.gov/sleep/data_statistics.html
2.https://www.sleepfoundation.org/how-sleep-works/sleep-facts-statistics