Andrographis Extract: An Effective Ingredient to Enhance Immunity
Author :   Date : Click : times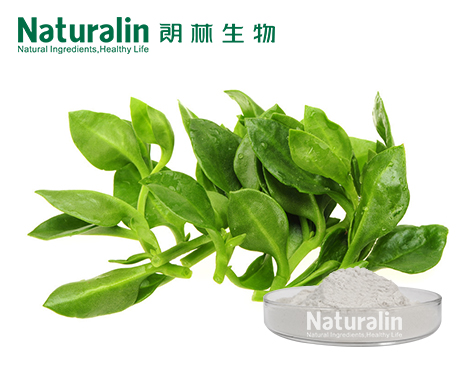 In late December 2020, the government of Thailand approved a pilot study of the use of the southern Asian herb andrographis (Andrographis paniculata, Acanthaceae) to treat early symptoms and reduce the severity of COVID-19. Initially, the treatment will be available at five state-owned hospitals in Thailand on a voluntary basis for people 18-60 years old with minor symptoms. It reportedly will be given to patients within 72 hours of symptom onset. This approval comes amid an increase of COVID-19 infections in the country. As of September 1st, 2021, Thailand had 1,219,531 cases of COVID-19 in a total population of about 70 million.
Andrographis
Andrographis(Andrographis paniculata) -- Called fah talai jone in Thai and 'the king of bitters'. among other names, andrographis is a small annual plant. It is an herb long used in traditional Chinese medicine and ayurveda. Also known as 'Indian echinacea' andrographis is a bitter-tasting herb rich in compounds known as andrographolides. These compounds are thought to have anti-inflammatory, antiviral, and antioxidant properties.
Immune Supporter Function
Andrographis has numerous traditional uses. Andrographis has been shown to provide acute support for the immune system, particularly in maintaining a normal body temperature. It has been used in traditional therapy to provide relief from the severity of common cold and flu. The bioactives were shown to positively affect the liver and serum enzymes and possess immune-supporting functions. Modern studies have focused on andrographis' potential benefits for respiratory and digestive conditions.
Andrographis paniculata's bioactives - - Andrographolide modulates the immune components and acts synergistically with the immune system to improve its overall defending ability.
Research studies speculate that the immune-supporting and modulatory potential of the andrographolide is mediated through their inhibiting ability of Lipopolysaccharide (LPS) stimulated nitric oxide production and NF-κB activation in macrophages. There is improved activitity of cytotoxic T cells, natural killer (NK) cells, and antibody-dependent cell-mediated cytotoxicity. The research studies conclude that andrographis extract can find its application in formulations aiming to support a healthy immune system.
Application:
Pharmaceutical and healthcare industry alone or as part of an herbal combination product such as capsules, tablets, oral liquids, etc. By the way, Naturalin- top herb and extract manufacturer, sells Andrographis paniculata extract and herbs.
High Quality, In Stock, Fast Delivery!
More Immunity Enhancing Ingredients
·
Echinacea Extract
·
Ganoderma Extract
·
Ginseng Extract
......
References
https://pesquisa.bvsalud.org/global-literature-on-novel-coronavirus-2019-ncov/resource/pt/covidwho-1161629
https://www.karger.com/Article/FullText/503410