Supporting Sleep Ingredient: Ziziphi Seed Extract
Author : Naturalin Marketing Dept.  Date : Click : times
Top Benefits
●
Supporting Sleep
Ziziphi seed extract is believed in Traditional Chinese Medicine to be the best herb in the TCM repertoire for calming disturbed 'shen' (spirit) with symptoms of nervous exhaustion, fatigue, irritability, and insomnia. Classified as a nutritive sedative, it calms the mind, relaxes and nourishes muscles, nourishes the blood, spleen and liver, helps to conserve energy, and is anagesic. The main active ingredients are flavonoids (including spinosin and swertisin), saponins (jujubosides), and polysaccharides. The saponins and flavonoids appear to be the most important compounds for its traditional calming and sleep uses. Therefore, It mainly applied in pharmaceutical industry and health care industry, such as capsules, tablets, granules and mixture.
● Supporting A Calm Mood
Ziziphi seed shows promise in the treatment of anxiety, according to a preliminary study published in the
Journal
of Ethnopharmacology in 2000. In tests on mice, the study's authors observed that compounds extracted from Ziziphus jujuba may have sedative effects.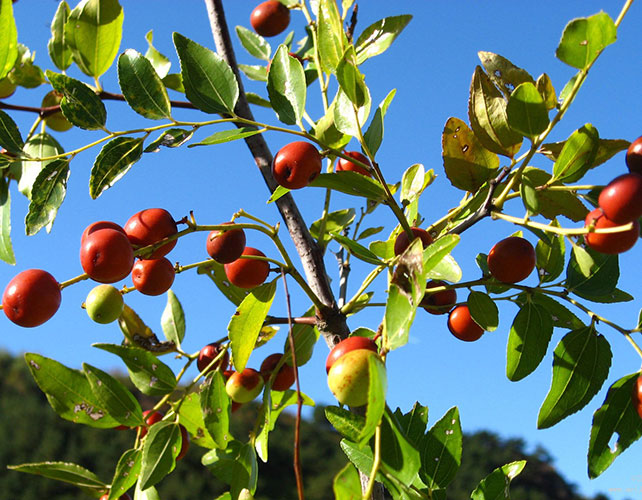 Other benefits
* Tonifying liver and kidney;
* It regulate blood lipids and improve the coronary atherosclerosis;
* It has a function of anticonvulsion and low the body temperature;
* Anti-myocardial ischemia,antiarrhythmic and improve cellular immunity.
Manufacturer
Naturalin®
specialized in producing and researching natural ingredients. If you are a manufacturer specializing in pharmaceuticals and supplements, health foods and beverages, you may need these natural ingredients, please contact us and let us serve you.
sales@naturalin.com
Advantages & Supports
· Leading natural active ingredients supplier in China with over 15 years experience.
· Own green and environmentally friendly planting base in China.
· Adhere the concept of
Safe, GMO Free, Green,Clean, Organic
.
·
ISO9001, QS, Kosher, Halal
certified.
· Professional R&D team and strong cooperation relationship with several university.