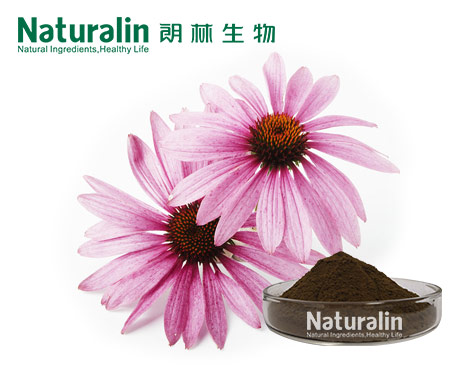 Echinacea Extract
Naturalin Code:

NAT-086

Product Specification:

4% Polyphenols; 2%-4% Cichoric Acid

Latin Name:

Echinacea purpurea (Linn.) Moench

Test Method:

UV/HPLC

We're here to help:


Easy ways to get the answers you need.

PRODUCT DESCRIBTION
Introduction:
Echinacea extract is extracted from the leaves, stems and roots of Echinacea Purpurea. Echinacea, commonly known as cone flower or black sampson is a purple colored flower which belongs to the daisy or sunflower family called Asteraceae. It contains 8 species, originates from America. Now Narrow-Leaf Echinacea Angustifolia and Echinacea E purpurea have been developed in drugs because of its high medicinal values.
Naturalin innovated USP standard test method for Echinacea extract. Compared with traditional USP test method, our advanced test method can make the test results more accurate. (Free sample support)

Naturalin as the Constitutor of Chinese Plant Extract Industry Standard for Echinacea Extract.
Product Details: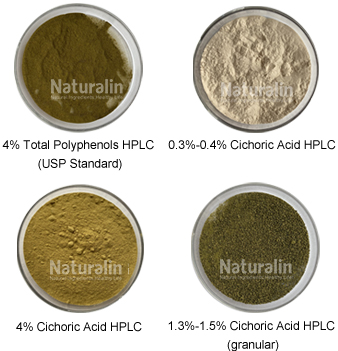 ▪ Ethanol/water extracted
▪ Water soluble with good clarity
▪ Organic quality echinacea powder, echinacea extract available
▪ PAHs comply wtih (Reg. (EC) 1881/2006)
▪ GMO Free (Reg. (EC) 1829/2003 and 1830/2003)
▪ BSE/TSE Free
▪ Gluten Free
▪ Allergens Free

▪ Patent product

Functions:
1. Anti-infective Ingredients
2. Anti-inflammatory Ingredients
3. Improve Immunity Ingredients
Applications:
Nutritional supplement
· Strengthening the immune system, and it can be used as an immunomodulator, improving the activity of different immune cells.
· Preventing influenza, shortening the duration of cold.
· Antiviral, inhibiting the virus growing, used to treat rabies and snake venom.
· Antifungal, polysaccharide & caffeic acid have antibacterial activity which can resist Candidiasis.
· Anti-inflammatory, strong anti-inflammatory activity, used for bacterial infections.

Naturalin is a professional Traditional Chinese Medicine manufacturer. Here Naturalin listed a few hot anti-virus ingredients:
Products Name



Active Ingredients



Recommended Specifications



Echinacea Extract

Polyphenols USP standards


4% Polyphenols; 2-4% Chicoric acid

Polyphenols + Chicoric acid

Andrographis Extract

Andrographolide

10%-98%
Astragalus Extract

Ratio ones, Polysaccharide

10%-70% Polysaccharide

Honeysuckle Flower Extract

Chlorogenic acid, Ratio ones

5% Chlorogenic acid

Ivy Extract

Hederacoside C

10% Hederacoside C

Coptis Extract

Berberine

Berberine: 95-98%

Packing & Storage:
Pack in paper-drums and two plastic-bags inside. Net Weight: 25kgs/paper-drum.
1kg-5kgs plastic bag inside with aluminum foil bag outside. Net Weight: 20kgs-25kgs/paper-drum.
Store in a well-closed container away from moisture and light.

Shelf Life:
2 years if sealed and store away from direct sun light.
Natural Ingredients, Healthy Life.
Naturalin is a botanical/plant extracts manufacturer and natural ingredient solutions provider.
Please feel free to contact us for your any concerns.

Associated Products
Contact Us
Email: sales@naturalin.com
Tel: +86(731)84430651
Free Sample
Subscribe Naturalin

INQUIRY
Please note that we are a wholesale company selling bulk quantities of 5 kg and greater.
We do not sell retail quantities to individuals.
Why Subscribe Naturalin Newsletter & Magazine?
As a leading plant extract manufacturer in China, Naturalin would like to offer you plant extract marketing inforamtion for you
in the form of monthly newsletter and semiyearly magazine, it is free of charge. Many thanks.