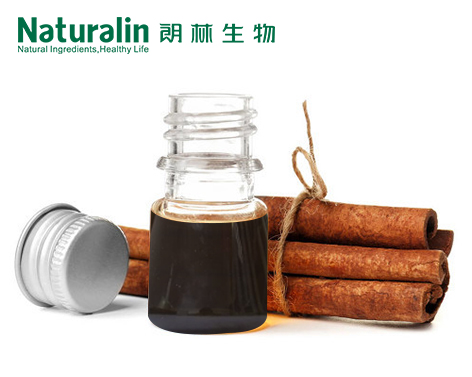 Cinnamon Oil
Naturalin Code:

NAT-057

Product Specification:

Oil

Latin Name:

Cinnamomum cassia Presl

Test Method:

N/A

We're here to help:


Easy ways to get the answers you need.

PRODUCT DESCRIBTION
Introduction:
Cinnamon, which has the scientific name Cinnamomum zeylanicum, originated in tropical Asia. Cinnamon is an evergreen tree, which can grow up to 30 feet high, but it is generally cultivated as a bush. It has thick barks, and known for its pleasing fragrance. It is one of the world's oldest and valuable spices. Cinnamo oil can be extracted from its bark, stems, and roots.

Functions:
1. Cinnamon oil's characteristic warming and comforting scent;
2. Cinnamaldehyde helps anti-fungal, antibacterial, antimicrobial, and anti-infectious;
3. Treat cold, flu, and fever due to cinnamon oil is known to fight infections;
4. Eugenol in cinnamon oil soothes ulcer & gastric pain;
5. Relive arthritic pain;
6. A natural insect repellent;
7. Enhance circulation.

Applications:
1. In Medicinal: cinnamon oil is used in pharmaceuticals to treat inflammation, colds, coughs; enhance resistance, etc.
2. In cosmetics: massage oils and gels, creams, lotions, perfumes, etc.
3. In personal care products: soap, shampoo, hair oil, etc.
Others: indoor sprays, insect repellents, scented candles, etc.

Naturalin is a reliable plant oil supplier, if you have any specific requirements, please contact us. sales@naturalin.com


Associated Products
Contact Us
Email: sales@naturalin.com
Tel: +86(731)84430651
Free Sample
Subscribe Naturalin

INQUIRY
Please note that we are a wholesale company selling bulk quantities of 5 kg and greater.
We do not sell retail quantities to individuals.
Why Subscribe Naturalin Newsletter & Magazine?
As a leading plant extract manufacturer in China, Naturalin would like to offer you plant extract marketing inforamtion for you
in the form of monthly newsletter and semiyearly magazine, it is free of charge. Many thanks.