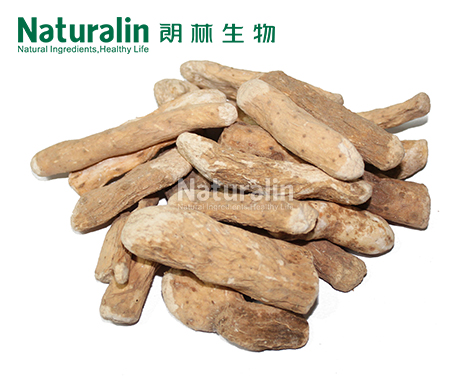 Yam
Naturalin Code:

NAT-067

Product Specification:

Whole/ Cut/ Slice

Latin Name:

Dioscorea opposita Thunb

Test Method:

We're here to help:


Easy ways to get the answers you need.

PRODUCT DESCRIBTION
Introduction:
This herb is the rhizome of Dioscorea appasita Thumb. of the family Dioscoreaceae. The chinese yam, grown in the Henan province (Xinxiang county) is believed to be the best variety, although Chinese yams found in other provinces (including Hebei, Shandong, and Shanxi in the northern, southern, and southwestern provinces) are equally effective. Harvested in the winter, it is cleaned, skinned, smoked with sulfur, and dried, or further processed with wheat bran and sliced.
Functions:
The active enzyme in yam, diosgenin, is a natural steroid which has anti-inflammatory effects on the human body. Since the enzymes in yam extract act as a steroid in the human body, athletes have also been known to use yam to improve athletic performance. Because it is natural, wild yam is often less harsh on the body and has a more gradual effect on bodybuilding performance and muscle tone.
Applications:
Yam can be used as supplement which comes in dried capsule, pill, or cream versions and is used to treat and alleviate a variety of conditions. It continues to be used today for inflammatory conditions such as rheumatism and arthritis as well as for regulating the digestive and reproductive tracts.
Strict Quality Control on Foreign matters, Heavy Metals, Micro-organism & Pesticides Residue, etc.
· Customized quality requirements to meet each client's demand.
· Meet CP, USP, or EU Pharma standard.


Associated Products
Contact Us
Email: sales@naturalin.com
Tel: +86(731)84430651
Free Sample
Subscribe Naturalin

INQUIRY
Please note that we are a wholesale company selling bulk quantities of 5 kg and greater.
We do not sell retail quantities to individuals.
Why Subscribe Naturalin Newsletter & Magazine?
As a leading plant extract manufacturer in China, Naturalin would like to offer you plant extract marketing inforamtion for you
in the form of monthly newsletter and semiyearly magazine, it is free of charge. Many thanks.