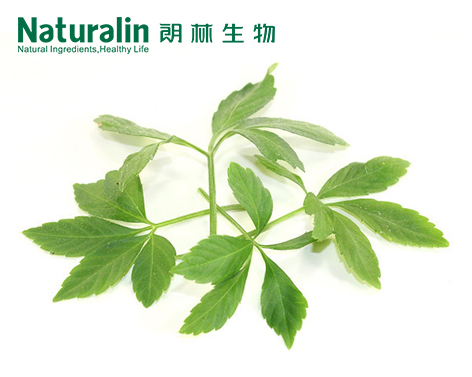 Gynostemma Extract
Naturalin Code:

NAT-123

Product Specification:

10%~98% Gypenosides

Latin Name:

Gynostemma pentaphyllum (Thunb.) Makino

Test Method:

UV

We're here to help:


Easy ways to get the answers you need.

PRODUCT DESCRIBTION
Introduction:
Gynostemma are known to grow throughout China, predominantly in the Southwest, although most species exist in at least one other country. The species G. pentaphyllum has the widest distribution outside of China, ranging from India to Southeast Asia to Japan and Korea.

Functions:
1. Adaptogenic, antioxidant, anti-inflammatory;
2. Antihypertensive, hypolipidemic,
3. Treating constipation;
4. Improving immunity, enhance physical strength; weakness, reduce or eliminate symptoms of fatigue, aging, improve mental activities to enhance brain function;
5. Maintain cardiovascular health, anti - Sclerosis; inhibit the formation of thrombus;
6. Sedation, hypnosis, anti-tight, white-haired governance, treatment of headaches.

Applications:
1. Applied in food field, a series of gynostemma tea and drinks are brought to the market;
2. Applied in health product field, to adjust blood pressure and strengthen the immune system .

Packing & Storage:
Pack in paper-drums and two plastic-bags inside. Net Weight: 25kgs/paper-drum.
1kg-5kgs plastic bag inside with aluminum foil bag outside. Net Weight: 20kgs-25kgs/paper-drum.
Store in a well-closed container away from moisture and light.

Shelf Life:
2 years if sealed and store away from direct sun light.

Natural Ingredients, Healthy Life.
Naturalin is a botanical/plant extracts manufacturer and Natural Ingredient Solutions provider.
Please feel free to contact us for your any concerns.


Associated Products
Contact Us
Email: sales@naturalin.com
Tel: +86(731)84430651
Free Sample
Subscribe Naturalin

INQUIRY
Please note that we are a wholesale company selling bulk quantities of 5 kg and greater.
We do not sell retail quantities to individuals.
Why Subscribe Naturalin Newsletter & Magazine?
As a leading plant extract manufacturer in China, Naturalin would like to offer you plant extract marketing inforamtion for you
in the form of monthly newsletter and semiyearly magazine, it is free of charge. Many thanks.