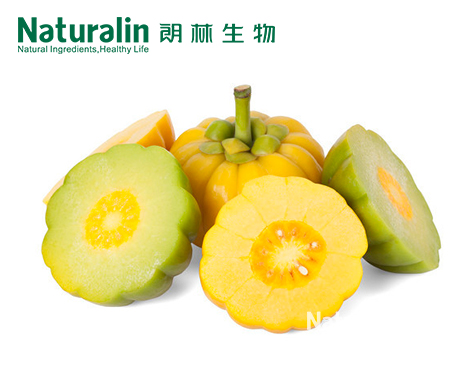 Garcinia Cambogia Extract
Naturalin Code:

NAT-106

Product Specification:

50%~60% HCA

Latin Name:

Garcinia Cambogia

Test Method:

HPLC

We're here to help:


Easy ways to get the answers you need.

PRODUCT DESCRIBTION
Introduction:
Garcinia cambogia is a citrus fruit. An extract from the fruit rind, hydroxycitric acid (HCA), has historically been used for cooking, but it's also been used for weight loss.
The Hydroxy citric acid as the main principle in the rind of Garcinia is well known since years and now proved to be bringing about weight loss and is being used as a food supplement for obesity control.
Hydroxycitric acid: HCA is a close relative of citric acid, the component that gives citrus fruits their characteristic tart flavor. Unlike citric acid that is found throughout the plant kingdom, HCA is limited to only a few plant species. HCA comprises somewhere between 10 to 30% (by weight) of the dried rind of Garcinia fruit, by far the greatest amount known from any single source.
Garcinia Cambogia Extract Chromatograph:
Applications:
1. Food- candy / sugar free candy;
2. Weight loss supplements;
3. Pharmaceutical health care products.

Packing & Storage:
Pack in paper-drums and two plastic-bags inside. Net Weight: 25kgs/paper-drum.
1kg-5kgs plastic bag inside with aluminum foil bag outside. Net Weight: 20kgs-25kgs/paper-drum.
Store in a well-closed container away from moisture and light.

Shelf Life:
2 years if sealed and store away from direct sun light.

Natural Ingredients, Healthy Life.
Naturalin is a botanical/plant extracts manufacturer and Natural Ingredient Solutions provider.
Please feel free to contact us for your any concerns.
Naturalin manufactures three lines of Natural Ingredients and additives: Food & Beverage application, Nutrition application and Personal Cares application.

Associated Products
Contact Us
Email: sales@naturalin.com
Tel: +86(731)84430651
Free Sample
Subscribe Naturalin

INQUIRY
Please note that we are a wholesale company selling bulk quantities of 5 kg and greater.
We do not sell retail quantities to individuals.
Why Subscribe Naturalin Newsletter & Magazine?
As a leading plant extract manufacturer in China, Naturalin would like to offer you plant extract marketing inforamtion for you
in the form of monthly newsletter and semiyearly magazine, it is free of charge. Many thanks.