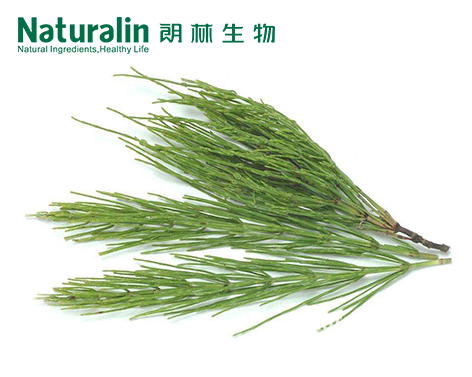 Horsetail Extract
Naturalin Code:

NAT-131

Product Specification:

1%~8% Silica

Latin Name:

Equisetum Arvense L.

Test Method:

N/A

We're here to help:


Easy ways to get the answers you need.

PRODUCT DESCRIBTION
Introduction:
Horsetail (Equisetum arvense), an herbal remedy dating back to at least ancient Roman and Greek medicine, was used traditionally to stop bleeding, heal ulcers and wounds, and treat tuberculosis and kidney problems. The name Equisetum is derived from the Latin roots equus, meaning "horse" and seta, meaning "bristle."
Horsetail is commonly known as bottlebrush, mare's tail, scouring rush and shave grass, and its scientific name is Equisetum arvense. According to Herbs 2000, horsetail is related to plants that were around during the dinosaur era and are believed to have been as tall as 40 feet or more. In the Middle Ages, horsetail clumps were used as scouring pads because of their silicon content.
Clinical European studies have shown that horsetail extract helps mend broken and fractured bones quicker, states Herbs 2000. Horsetail extract will also heal dislocated joints and pulled hamstrings and reduce osteoporosis. Growth and stability of the skeletal system are promoted by using horsetail extract. The German government agency, Commission E, regulates the use of horsetail extract as a diuretic for water retention and to treat urinary tract problems including gravel, according to Flora Health. It is also used externally to treat wounds and prevent infections.

Functions:
1.To increase urination and reduce swelling;
2.To prevent osteoporosis;
3.To treat arthritis and arteriosclerosis;
4.To be used for treating nails crack;
5.To reduce inflammation and help wound healing.

Applications:
1.Horsetail Extract can be used in relieving the pain caused by liver disease;
2.Horsetail Extract has a good action on diuresis;
3.Horsetail Extract can be a treatment of vomiting blood , cough, asthma and gonorrhea.

Packing & Storage:
Pack in paper-drums and two plastic-bags inside. Net Weight: 25kgs/paper-drum.
1kg-5kgs plastic bag inside with aluminum foil bag outside. Net Weight: 20kgs-25kgs/paper-drum.
Store in a well-closed container away from moisture and light.

Shelf Life:
2 years if sealed and store away from direct sun light.

Natural Ingredients, Healthy Life.
Naturalin is a botanical/plant extracts manufacturer and Natural Ingredient Solutions provider.
Please feel free to contact us for your any concerns.


Associated Products
Contact Us
Email: sales@naturalin.com
Tel: +86(731)84430651
Free Sample
Subscribe Naturalin

INQUIRY
Please note that we are a wholesale company selling bulk quantities of 5 kg and greater.
We do not sell retail quantities to individuals.
Why Subscribe Naturalin Newsletter & Magazine?
As a leading plant extract manufacturer in China, Naturalin would like to offer you plant extract marketing inforamtion for you
in the form of monthly newsletter and semiyearly magazine, it is free of charge. Many thanks.