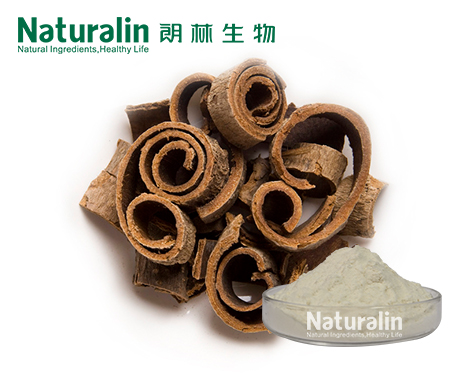 Magnolia Bark Extract
Naturalin Code:

NAT-141

Product Specification:

50~98% Mognolol,50~98% Hinokiol

Latin Name:

Magnolia officinalis Rehd. et Wils.

Test Method:

HPLC

We're here to help:


Easy ways to get the answers you need.

PRODUCT DESCRIBTION
Introduction:
Magnolia bark (Magnolia officinalis) is a traditional Chinese medicine (where it is known in TCM as houpu or hou po) used since 100 A.D. for treating "stagnation of qi" (low energy) as well as a variety of syndromes, such as digestive disturbances caused by emotional distress and emotional turmoil. Magnolol and honokiol are the bioactive constituents of the bark of Magnolia officinalis.
Magnolia is an ancient genus,Having evolved before bees appeared, the flowers developed to encourage pollination by beetles. As a result, the carpels of Magnolia flowers are tough, to avoid damage by eating and crawling beetles. Another primitive aspect of Magnolias is their lack of distinct sepals or petals.

Functions:
Magnolol can protect liver and cure hepatitis and acute liver injury;
Honokiol can inhibit blood plasma coagulation, antibiosis;
Restrain central nervous system,muscular flaccidity and ulcerhealing.

Applications:
It can be used for helping hepatitis, apoplexia,typhoid fever ,cold headache,breath and blood stasis, stomach overload and stagnation of the circulation of vital energy; also used in health-care and detergent & cosmetics industries.

Packing & Storage:
Pack in paper-drums and two plastic-bags inside. Net Weight: 25kgs/paper-drum.
1kg-5kgs plastic bag inside with aluminum foil bag outside. Net Weight: 20kgs-25kgs/paper-drum.
Store in a well-closed container away from moisture and light.

Shelf Life:
2 years if sealed and store away from direct sun light.

Natural Ingredients, Healthy Life.
Naturalin is a botanical/plant extracts manufacturer and Natural Ingredient Solutions provider.
Please feel free to contact us for your any concerns.


Associated Products
Contact Us
Email: sales@naturalin.com
Tel: +86(731)84430651
Free Sample
Subscribe Naturalin

INQUIRY
Please note that we are a wholesale company selling bulk quantities of 5 kg and greater.
We do not sell retail quantities to individuals.
Why Subscribe Naturalin Newsletter & Magazine?
As a leading plant extract manufacturer in China, Naturalin would like to offer you plant extract marketing inforamtion for you
in the form of monthly newsletter and semiyearly magazine, it is free of charge. Many thanks.