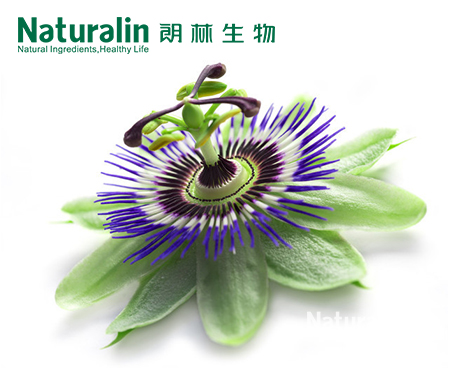 Passionflower Extract
Naturalin Code:

NAT-164

Product Specification:

4% Total flavonoids, 4:1

Latin Name:

Passiflora caerulea L.

Test Method:

UV-VIS

We're here to help:


Easy ways to get the answers you need.

PRODUCT DESCRIBTION
Introduction:
Passionflower was used in traditional remedies as a "calming" herb for anxiety, insomnia, seizures, and hysteria. During the early twentieth century, this herb was included in many over-the-counter sedatives and sleep aids. In 1978, the U.S. Food and Drug Administration (FDA) banned these preparations due to a lack of proven effectiveness. In Germany, however, passionflower is available as an over-the-counter sedative (in combination with other calming herbs such as valerian and lemon balm),
Passionflower extract,It is also used in German homeopathic medicine to treat pain, insomnia, and nervous restlessness. Today, professional herbalists use passionflower (often in combination with other calming herbs) to help treat insomnia, tension, and other health problems related to anxiety and nervousness.

Functions:
1. Regulating neural stability, which included mild sedative and antianxiety effects;
2. Inhibiting the spasticity of the smooth muscle, which included the digestive system;
3. Slowing down the rate of food through the digestive tract, thereby promoting digestion;
4. Ideal for people who suffer from disorders related to sleep and behavior such as insomnia, epilepsy, and anxiety;
5. Aphrodisiac effect, which makes it perfect for people suffering from loss of libido.

Applications:
1. Applied in Pharmaceutical field;
2. Applied as Nutrient.

Packing & Storage:
Pack in paper-drums and two plastic-bags inside. Net Weight: 25kgs/paper-drum.
1kg-5kgs plastic bag inside with aluminum foil bag outside. Net Weight: 20kgs-25kgs/paper-drum.
Store in a well-closed container away from moisture and light.

Shelf Life:
2 years if sealed and store away from direct sun light.

Natural Ingredients, Healthy Life.
Naturalin is a botanical/plant extracts manufacturer and Natural Ingredient Solutions provider.
Please feel free to contact us for your any concerns.


Associated Products
Contact Us
Email: sales@naturalin.com
Tel: +86(731)84430651
Free Sample
Subscribe Naturalin

INQUIRY
Please note that we are a wholesale company selling bulk quantities of 5 kg and greater.
We do not sell retail quantities to individuals.
Why Subscribe Naturalin Newsletter & Magazine?
As a leading plant extract manufacturer in China, Naturalin would like to offer you plant extract marketing inforamtion for you
in the form of monthly newsletter and semiyearly magazine, it is free of charge. Many thanks.