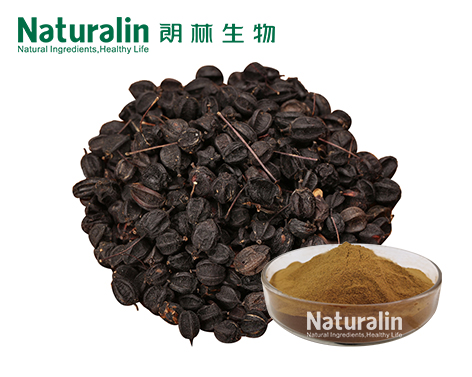 Siberian Ginseng Extract
Naturalin Code:

NAT-194

Product Specification:

0.8%~1.5% Eleutherosides B + E

Latin Name:

Acanthopanax Senticosus(Rupr.et Maxim.)Harms

Test Method:

HPLC

We're here to help:


Easy ways to get the answers you need.

PRODUCT DESCRIBTION
Introduction:
Siberian ginseng extract used in combination with a herb called andrographis. Some clinical research shows that taking a specific combination product containing Siberian ginseng plus andrographis (Kan Jang, Swedish Herbal Institute) significantly improves symptoms of the common cold when started within 72 hours of symptom onset. Some symptoms can improve after 2 days of treatment. Siberian Ginseng Extract can also be used as animal food additives. It is a kind of antibiotic substitute with great potential.
Functions:
1. Anti-inflammatory;
2. It is immunogenic and stimulating the body's immune system, and improving immunity;
3. Resisting fatigue and resore energy rapidly;
4. Preventing and relieving stress, preventing disease caused by the pressure;
5. Promoting metabolism and improving skin blood running to desalt the chloasma.
Applications:
Animal Nutrition

:
Anti-inflammatory; Anti-viral; Enhance immune activity
Eleutherosides B + E can be used to improve animal production performance, enhance immune function, and regulate intestinal microbes. It has a wide range of applications, including poultry (chicken, duck, dog, cow, pig, horse, etc.), aquatic animals (fish), etc.
It is a kind of antibiotic substitute with great potential.
Nutrition: Health care effect
Its applications include as health care additives, nutritional supplements ingredients and etc to enhancing human's immune function, promoting the repair of injured neurons and anti-fatigue, lowering blood sugar and has good effects on cardiovascular system.
Personal Care: Anti-oxidation; Anti-aging
Siberian Ginseng Extract can resist free radical attack, has delays aging, antioxidant effect, and is widely applied as additives of chloasma beauty products, and applied in anti-aging cosmetics, such as: lotion, cream, ointment, etc.
TIPS:
Naturalin hot ingredients applied in animals:
| | | | |
| --- | --- | --- | --- |
| Applicated Field | English name | Chinese name | Specification |
| Animal food | Eucommia Bark / Leaves Extract | 杜仲树皮/叶提取物 | 5%-98% Chlorogenic Acid |
| Pet food | Grape Seed Extract | 葡萄籽提取物 | 45%-80% Polyphenols; 80%-95% OPC |
| Aquatic animals | Green Tea Extract | 绿茶提取物 | 0-98% Polyphenols |
Packing & Storage:
Pack in paper-drums and two plastic-bags inside. Net Weight: 25kgs/paper-drum.
1kg-5kgs plastic bag inside with aluminum foil bag outside. Net Weight: 20kgs-25kgs/paper-drum.
Store in a well-closed container away from moisture and light.
Shelf Life:
2 years if sealed and store away from direct sun light.
Natural Ingredients, Healthy Life.
Naturalin is a botanical/plant extracts manufacturer and Natural Ingredient Solutions provider.
Please feel free to contact us for your any concerns.

Associated Products
Contact Us
Email: sales@naturalin.com
Tel: +86(731)84430651
Free Sample
Subscribe Naturalin

INQUIRY
Please note that we are a wholesale company selling bulk quantities of 5 kg and greater.
We do not sell retail quantities to individuals.
Why Subscribe Naturalin Newsletter & Magazine?
As a leading plant extract manufacturer in China, Naturalin would like to offer you plant extract marketing inforamtion for you
in the form of monthly newsletter and semiyearly magazine, it is free of charge. Many thanks.