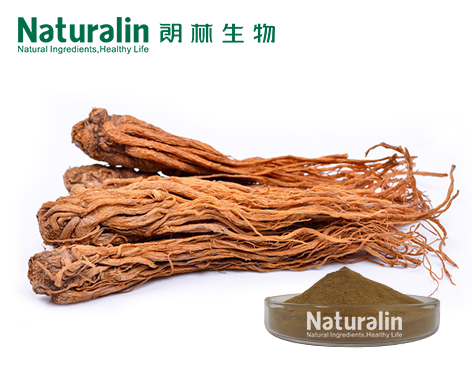 Angelica Extract
Naturalin Code:

NAT-010

Product Specification:

1% Ligustilides, 1% Ferulic Acid

Latin Name:

Angelica Sinensis (Oliv.) Diels

Test Method:

HPLC

We're here to help:


Easy ways to get the answers you need.

PRODUCT DESCRIBTION
Introduction:
Angelica (Dong Quai) Extract is an aromatic herb that grows in China, Korea, and Japan. The reputation of Don quai is second only to Ginseng and is considered the ultimate, all-purpose woman's tonic herb. It is used for almost every gynecological complaint from regulating the menstrual cycle to treating menopausal symptoms caused by hormonal changes. Angelica extract is extracted from angelica, which is a good remedy for colds, coughs, pleurisy, wind, colic, rheumatism and diseases of the urinary organs. It is generally used as a stimulating expectorant, combined with other expectorants, the action of which is facilitated, and to a large extent diffused, through the whole of the pulmonary region. Angelica is of therapeutic usefulness for many disorders.Ligustilide is the main active ingredient of Dong Quai volatile oils. It has a strongpharmacological effect on cardiovascular,circulatory system and immune function.

Functions:
1. Balancing and treating female systems and cycles;
2. Improve the microcirculation;
3. To fight against oxidation and scavenge free radicals;
4. To supplement Vitamin E;
5. To reduce the excitability of myocardium and to treat the auricular fibrilation;
6. To lower blood pressure and blood fat and to protect the pathological changes of main artery as well as to treat atherosclerosis.

Toxicity:
Angelica (Dong Quai) Extract is generally quite safe. However, because it does contain photoreactive substances, overexposure to sunlight should be avoided.

Applications:
Pharmaceutical stuff / Health care / cosmetic

Packing & Storage:
Pack in paper-drums and two plastic-bags inside. Net Weight: 25kgs/paper-drum.
1kg-5kgs plastic bag inside with aluminum foil bag outside. Net Weight: 20kgs-25kgs/paper-drum.
Store in a well-closed container away from moisture and light.

Shelf Life:
2 years if sealed and store away from direct sun light.

Natural Ingredients, Healthy Life.
Naturalin is a botanical/plant extracts manufacturer and Natural Ingredient Solutions provider.
Please feel free to contact us for your any concerns.


Associated Products
Contact Us
Email: sales@naturalin.com
Tel: +86(731)84430651
Free Sample
Subscribe Naturalin

INQUIRY
Please note that we are a wholesale company selling bulk quantities of 5 kg and greater.
We do not sell retail quantities to individuals.
Why Subscribe Naturalin Newsletter & Magazine?
As a leading plant extract manufacturer in China, Naturalin would like to offer you plant extract marketing inforamtion for you
in the form of monthly newsletter and semiyearly magazine, it is free of charge. Many thanks.