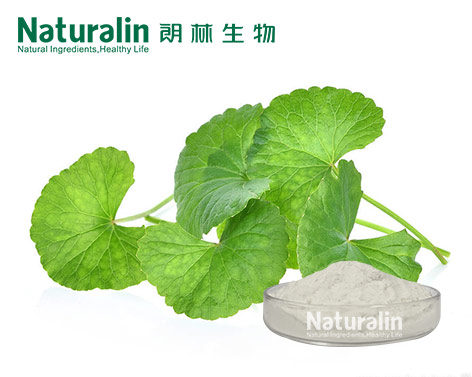 Gotu Kola Extract
Naturalin Code:

NAT-116

Product Specification:

10% ~70%Triterpenes; 95% Asiaticoside; 36-44% Asiaticosides, 54-66% Genins Triterpenes

Latin Name:

Centella asiatica(L.)Urb.

Test Method:

HPLC

We're here to help:


Easy ways to get the answers you need.

PRODUCT DESCRIBTION
Naturalin® Patent product -- Gotu Kola Extract


Introduction:
As a member of the parsley family, gotu kola has long been used in traditional Chinese medicine and ayurveda (the traditional medicine of India) to heal skin conditions such as psoriasis, fight mental fatigue, and treat asthma, fever, and stomach ulcers.Gotu kola extract has been used in traditional Chinese medicine and ayurveda (the traditional medicine of India) to heal skin disease such as psoriasis for a ling time. It is currently used clinically to treat surgical creation, burns, trauma and scars. It is a natural plant active ingredient with anti-inflammatory characteristics. Scientific research has proved that the active ingredients of Centella Asiatica can stimulate the production of type I and type III collagen and reorganize the dermis of the extracellular matrix.Centella asiatica extract is a popular raw material for various cosmetics and also is one of the most popular functional materials abroad.
Functions:

1. Asiaticosides--- Anti-inflammatory, against irritated and reddened skin, anti-allergic;
2. Genins Triterpenes--Natural Antibiotic, antibacterial, anti-acne, scar;
3. Reduce and prevent stretch marks;
4. Promote wound healing;
5. Improve sensitive and dry skin, Post-sun repair care;
6. Dermal reconstruction, Regulate keratin;
7. Pressuring relief, good for sleeping; Improving memory;
8. Increasing circulation in people with diabetes.

Applications:

1. Dietary supplement
Recommend Specification: 4:1 / 10%~40% Triterpenes
2. Personal care product
Recommend Specification: 80%~95% Asiaticosides / 36-44% Asiaticosides, 54-66% Genins Triterpenes
In Cosmetics, it can be used for the development of care products and whitening products.
3. All our products can be customized to the specific needs of the client.

Naturalin recommended products for Personal Care Industry:

| | | |
| --- | --- | --- |
| Personal Care Ingredients | Spec | Function |
| Soap Nut Extract | 70% Saponins | Foaming ingredients; Antibacterial |
| Olive Leaf Extract | 20% Oleuropein | Antibacterial effect |
| Seabuckthorn Seed Oil | CO2 Seabuckthorn seed oil | Anti-oxidation; Repairing skin |
Packing & Storage:
Pack in paper-drums and two plastic-bags inside. Net Weight: 25kgs/paper-drum.
1kg-5kgs plastic bag inside with aluminum foil bag outside. Net Weight: 20kgs-25kgs/paper-drum.
Store in a well-closed container away from moisture and light.
Shelf Life:
2 years if sealed and store away from direct sun light.
Natural Ingredients, Healthy Life.
Naturalin is a botanical/plant extracts manufacturer and Natural Ingredient Solutions provider.

Associated Products
Contact Us
Email: sales@naturalin.com
Tel: +86(731)84430651
Free Sample
Subscribe Naturalin

INQUIRY
Please note that we are a wholesale company selling bulk quantities of 5 kg and greater.
We do not sell retail quantities to individuals.
Why Subscribe Naturalin Newsletter & Magazine?
As a leading plant extract manufacturer in China, Naturalin would like to offer you plant extract marketing inforamtion for you
in the form of monthly newsletter and semiyearly magazine, it is free of charge. Many thanks.