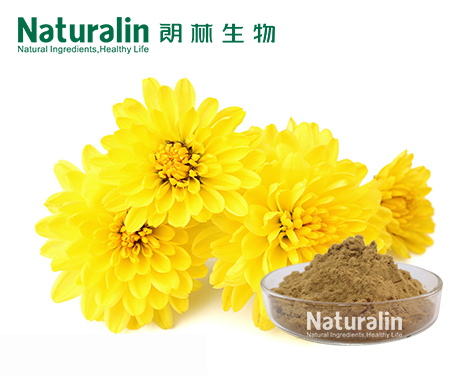 Instant Chrysanthemum Tea Powder
Naturalin Code:

NAT-055

Product Specification:

Instant Powder

Latin Name:

Chrysanthemum morifolium Ramat.

Test Method:

TLC

We're here to help:


Easy ways to get the answers you need.

PRODUCT DESCRIBTION
Introduction:
The medicinal value of Instant Chrysanthemum Tea Powder is familiar to people, and the modern research indicates that the chrysanthemum contains the flavanone class, the choline, the amino acid, the chrysanthemum glucoside, the chlorogenic acid, Vitamin a and the Vitamin b, the trace element selenium, nickel, manganese and so on. It can be used to lower fever, to detoxicate, to treat disorders of the liver, to lower blood pressure. It is used in treating sore pain, dizziness, hypertension and so on; It has distinctive anti-viral function, containing ingredients of anti-senile, promoting cholesterol decomposition and excretion.

Functions:
1. Clear away the heat-evil and expelling superficial evils; suitable for preventing and curing wind-heat type common cold, throat sore or ulcer or gall, vertigo and headache, etc.
2. Take regularly to decrease internal heat and calm mood.
3. Resist to bacterium, virus, aging, and allay fever.
4. Play an auxiliary role in preventing and treating high blood lipid, high blood pressure, coronary heart disease and arteriosclerosis.

Applications:
1. Be widely used to functional beverage industry;
2. The multifunctional green food additives;
3. Raw material of health food.

Packing & Storage:
Pack in paper-drums and two plastic-bags inside. Net Weight: 25kgs/paper-drum.
1kg-5kgs plastic bag inside with aluminum foil bag outside. Net Weight: 20kgs-25kgs/paper-drum.
Store in a well-closed container away from moisture and light.

Shelf Life:
2 years if sealed and store away from direct sun light.

Natural Ingredients, Healthy Life.
Naturalin is a botanical/plant extracts manufacturer and Natural Ingredient Solutions provider.
Please feel free to contact us for your any concerns.


Associated Products
Contact Us
Email: sales@naturalin.com
Tel: +86(731)84430651
Free Sample
Subscribe Naturalin

INQUIRY
Please note that we are a wholesale company selling bulk quantities of 5 kg and greater.
We do not sell retail quantities to individuals.
Why Subscribe Naturalin Newsletter & Magazine?
As a leading plant extract manufacturer in China, Naturalin would like to offer you plant extract marketing inforamtion for you
in the form of monthly newsletter and semiyearly magazine, it is free of charge. Many thanks.